Discover The Secrets And Tricks Of Soulful Electric Slide Guitar In The Styles Of Derek Trucks, Duane Allman, Warren Haynes, Elmore James, And Bonnie Raitt…
Got a slide but you're afraid to use it? Join me, Griff Hamlin, as we walk step-by-step through 5 Easy Slide Solos in the styles of some of the greatest slide guitar players of all time. And in the "5 Easy…" tradition, nothing is faster than an 1/8th note so you'll be able to put these ideas to work for you right away.
I'll be the first to admit, that I love the sound of slide guitar but was always mystified by it…
Whether it be Elmore James on his classic, "Dust My Broom," or something more modern like Bonnie Raitt on her version of "Pride And Joy," or Derek Trucks on "Drown In My Own Tears," the sound of the slide guitar has always just struck me as soulful and full of great ideas and emotion…
But if you're like me, figuring out how Duane Allman puts some of those ideas together (in an open tuning, no less) was nothing short of a Sherlock Holmes mystery… and I'm no Watson.
In fact, it took me many years of research and learning a lot of other things before the open tunings and some of the "tricks" of slide playing really started to click for me.
So now I've taken all those years and all those hours with my SG and a collection of slides and distilled them down into 5 Easy Slide Solos that you can play and incorporate into your own slide playing style.
Here's What You'll Get With 5 Easy Slide Solos…
5 "Textbook" slide solos in the styles of Duane Allman, Bonnie Raitt, Derek Trucks, Warren Haynes, and Elmore James. If you're learning slide, these are the people you want to learn from!
Full speed and slow speed versions of each solo for you to play along with so you can work with the slow version until you get it down, then move to the full speed for when you're ready to show off to the world.
Jam Tracks for all 5 solos so once you've got it all memorized and under your fingers, you can take away my playing and do it all on your own. This is the best way to prepare for playing these live with a band.
Complete breakdowns of each and every lick in each and every solo.
Complete transcriptions of each solo with the licks labelled. I've made it dead-simple to follow along and know where you are at all times so you can learn the solos as fast as humanly possible.
Close ups of me playing with both the right and left hand… The picking hand is extremely important in slide and you'll be able to see how I use my fingers on my picking hand to mute and strike notes at all times.
How to handle the main open tunings you'll encounter, open D, open E, and open G tunings.
A bucketful of great slide licks that you can use over and over again in literally hundreds (if not thousands) of tunes.
Wouldn't You Like To Be Playing Slide Like This?
The proof is always in the pudding, as they say, so check out the 5 solos you'll be learning… remember nothing here is over an 1/8th note tempo so it's all within your reach.
Solo 1 is in the style of the "father of the electric slide guitar," Elmore James –
Solo 2 is in the style of the inimitable Bonnie Raitt –
Solo 3 is in the style of Warren Haynes, one of slide guitar's modern masters –
Solo 4 is in the style of Duane Allman, one of the most influential slide guitar players of all time –
Solo 5 is in the style of Derek Trucks, considered by many to be the greatest slide guitar player alive today –

90 Day Iron-Clad Guarantee
As with all of my courses, 5 Easy Slide Solos is guaranteed for 90 days. If you don't absolutely love these solos I insist that you ask me for a refund! But I know you are going to love them as much as I enjoyed putting them together for you.
Here's What To Do Next...
The 5 Easy Slide Solos Videos, play along tracks, and manual are all available instantly via digital streaming or download immediately after you complete your purchase via the secure Member Portal.
So you can, quite literally, be playing some great new slide licks within just a few minutes from now...
Plus, the Video Player inside the Portal also has the extra feature of being able to loop sections of the videos so you can set a start and end point on a part you want to practice and play along with me repeatedly, as many times as you like, and I never get bored 🙂
If you want me to send you the course on DVD/CD and Print out the manual as well, I can do that for the cost of the materials (plus applicable shipping.) Of course, you still get the Digital version - that's a given.
All you have to do is choose your adventure from the box below and get started playing authentic, electric slide solos today.
To get your copy of 5 Easy Slide Solos just click the yellow "Add To Cart" button below with your preferred delivery method. Within moments of your order being complete you will receive access instructions to the Member Portal via email. So you can be playing the blues in just a few minutes from right now!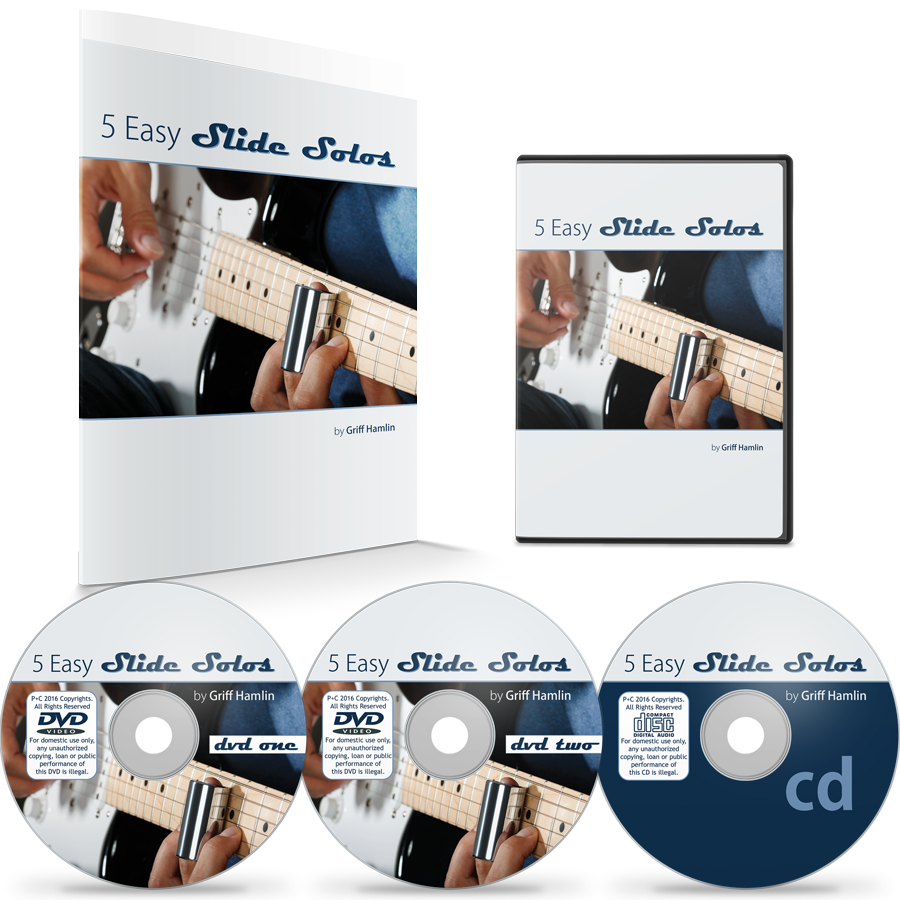 This is a one time payment, NOT a subscription. 3 Payment option may be available at checkout.
No blues player's back of tricks is complete without the soulful sound of the slide and 5 Easy Slide Solos is simply the fastest and best way to add real slide licks to what you do.
When your nerves hit on a stage or with a group, you want to play things you know, not just things you know of… and with 5 Easy Slide Solos you're getting real, authentic slide guitar that's within reach by just about anyone.
All you have to do is grab your copy and make these solos your own. There's never going to be a better time than right now.